2015 Winter Story Times
Registration begins for Winter Story Times on Friday, January 2. Winter Story Times for toddlers and preschoolers will begin on Monday, January 12 and run until Thursday, March 5. Parents or caregivers of children may register in person at the Library or by calling 426-4477. Space is limited so registration will be on a first come first served basis.
Children 18 months to 3 years of age may sign up for one Toddler Story Time. Toddler Story Times are held on Mondays, Wednesdays or Thursdays at 10:30 a.m. Children 3 to 5 years of age may sign up for one Preschool Story Time. Preschool Story Times are held on Mondays at 11:30 a.m. or Tuesdays at 1:00 p.m. Combined Toddler/Preschool Story Times will be offered on Wednesdays or Thursdays at 11:30 a.m. Parents or caregivers are required to attend the sessions. Each session lasts approximately 30 minutes.
Winter Story Times for children include picture, pop-up and interactive books, flannel-board stories, songs, puppets, finger plays, crafts and other activities that encourage a love of reading to your child.
First Tuesday LEGO Club
On the first Tuesday of every month, our LEGO Club meets between 4:00 and 5:00 p.m. in the lower level meeting room. Kids ages 4 and up are invited to spend an afternoon making their own LEGO creations while visiting with old friends and making new ones. Everyone is welcome - LEGOS will be provided by the Library.
Upcoming Club Dates: December 2, January 6, February 3, March 3 and April 7

Thanksgiving Story Time

Monday, November 24 at 1:00 p.m.
We'll be reading books about families, food and Thanksgiving,
singing some turkey songs and creating a simple craft.
Geared for ages 6 and under, registration is not required.
Guidelines for Presenters and Performers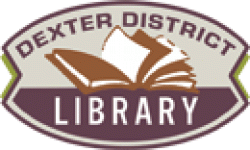 Thank you for your interest in programming at the Dexter District Library. The Library receives a wide variety of suggestions for programming and requests from outside groups and individuals to present programs at and sponsored by the Library.

Many of the programs the Library offers are organized and conducted by our professional staff members including story times, drop in craft days and book discussions among others. Our staff members have created these interesting and lively programs and have rehearsed their presentations to provide continuity. At this time, we do not accept volunteers or permit performers the opportunity to participate in these rehearsed programs.

Throughout the year, the Library offers programs presented by professional performers and presenters. The Library staff performs research before scheduling these events, checking with other libraries and venues to verify the content and quality of the programming and evaluates information submitted by the performers to gauge the appropriateness of the program for the Library's clientele. The main goals of programming at the Library are to encourage community members to visit the Library for an entertaining or educational event and encourage use of the Library on an on-going basis.

If you are interested in being considered for a Library sponsored event, the Library has the following requirements:
A written description of the proposed program must be submitted to the Library for consideration. Proposals must include the name and credentials of the presenter, the subject of the program, the expected duration of the program, an explanation of any associated activities, samples of presentation materials, a description of the target age group (if appropriate) and any requirements the presenter needs fulfilled by the Library.

A statement as to whether the request for a Library sponsored event will be provided by the presenter on a volunteer or fee basis must be included.

Notations on program attendance numbers and any restrictions or limitations. Programs, presentations and performances must be of interest to the community at large or a specifically targeted age group to ensure good attendance.

References from other libraries or other performance venues, including complete contact information, must be provided.


Volunteers and performers must be willing to enter into a contract specifying the time, date and place of the performance.

The Library strives to ensure quality programming for the community and the community has come to expect a certain level of content when attending Library sponsored events. For Library sponsored presentations, the Library will advertise sponsored events through local media, in-house promotion and social media to make the community aware of the event. Presenters who do not abide by the terms of the contract will not be offered additional Library sponsorship. Individuals may choose to arrange events independent of Library sponsorship and schedule meeting room use. In such cases, the Library's Meeting Room Use policy will take precedence.
Approved by the Board of Trustees of the Dexter District Library 2/7/2011
Detroit Zoo - Discounted Tickets
The Detroit Zoo is now offering discounts to local library patrons. Through the 'Tickets & More' program, library cardholds can purchase admissions, ride tickets, food coupons and parking. If you are looking for something to do...why not check out the Zoo!
Complete details can be found at:
https://tickets.detroitzoo.org/affiliate.asp?ID=2195985C-76C5-469F-B27C-CE7E3C30F65F
Summer Camps and Day Care Centers
Guidelines are attached.
Introduction to Story Times
Many parents and caregivers are not aware of the planning and preparation it takes to present a 30 minute Story Time here at the Library. The planning process begins with choosing a theme for each week, particularly one that would be of interest to a Toddler or Preschool child. Examples of themes often used are Farm, Pond or Jungle Animals, Bedtime, Bath Time, Pets, Monsters, Dinosaurs and Transportation as well as concept themes such as Colors, Counting, Opposites and Shapes. Age appropriate books that are entertaining to small children are then selected, action rhymes are prepared to encourage enjoyment of the rhythm of language, a variety of visual aids are selected to keep a child's interest during the sessions and songs for dancing or singing are added because very young children are not expected to sit still and listen for 30 minute intervals.
Dexter District Library also has a wide variety of programming materials for Story Times. There are over 300 interactive, pop-up and lift-the-flap books in our Professional Collection and our Story Time cupboards hold a huge collection of hand puppets, finger puppets, story telling kits, literacy bags, flannel board pieces, rhythm sticks and other materials that encourage the love of reading. The Friends of the Dexter District Library have also purchased several popular children's books in big book format to add to the Professional Collection and an easel to hold the books, making it easier to read and show during Story Times. This collection has become very useful when children need to sit and listen to a book for a longer period of time.
Attendance at Story Times is often a child's first introduction to the many services offered by the Dexter District Library. When the program is geared to their interests with the knowledge of what is developmentally appropriate for their age group, the Library has the opportunity to create life-long readers and Library users in the Dexter Community. It is with this knowledge in mind, that Story Times are carefully planned and implemented to introduce the entertaining side of literature to young children.
Supervision and Behavior of Children in the Library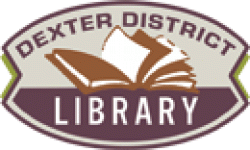 Supervision and Behavior of Children in the Library
An Amplification of the Library's Rules of Behavior
The Dexter District Library is strongly committed to the provision of services to children and desires children of all ages have positive library experiences. However, the Library is a busy public facility and Library staff cannot assume responsibility for the supervision, safety or entertainment of children who use it.
A parent or other adult accompanying a child in the Library is expected to prevent the child from running, making excessive noise, crying, pulling books from shelves, pounding on computer equipment or otherwise behaving disruptively. If the parent or caregiver cannot control the behavior of the child, both will lose Library privileges pursuant to the procedures set forth in the Patron Behavior Policy.
Children five years of age or younger must be under the direct supervision of a parent or other adult (age 18 years or older) at all times. When a child of this age attends Library programs, the parent or other adult must remain in the Library and be readily available to provide supervision or remove the child if necessary.
Children ages six through eleven may use all areas of the Library alone, but a parent or other adult must be on the Library premises.
Children aged twelve and over are welcome to use the Library without an adult on the premises.
All children, whether accompanied by an adult or parent or using the Library alone, must observe the rules that govern Library use, including but not limited to the Library's Rules of Behavior Policy and Internet Use Policy.
The Library is not meant to be a substitute baby-sitter. Children visiting the Library alone are welcome to remain as long as desired, provided the child is busy reading, writing, doing school work or using other library resources. Children who become boisterous, undisciplined, uncontrollable or otherwise in violation of any Library policy may lose Library privileges.
Children who are not picked up within 15 minutes after the Library closes will be referred to the Sheriff's station to wait for a ride.
Field Trip Guidelines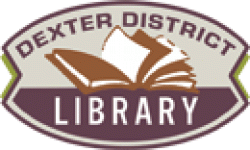 Dexter District Library
Field Trip Guidelines


The Dexter District Library is happy to offer the opportunity for school classes, preschools and other organized groups of children to visit the Library for tours, introductions to the resources available in the Library's collections and Library programs. At the same time, the Library also needs to provide a welcoming atmosphere to all families within our community. In order to provide excellent services to all, the Library has established the following guidelines for groups visiting the Library. Adherence to these guidelines will help the Library ensure continuity of service to all patrons and ensure your group has an enjoyable and positive visit.
SCHEDULING – LIBRARY TOURS
Plan to schedule your visit at least 2 weeks in advance. The Library can accommodate groups of up to 35 as staffing and library programming allow. Discuss special arrangements for larger groups with us.

We can provide library card applications for your group.

Applications for Library cards must be returned to the Library no later than one week prior to your group's visit.

We cannot issue library cards for groups at the time of your visit.

All children must present a valid Library card, free of fines or other charges, in order to check out materials.

Staff cannot loan materials to children who visit the Library without a valid Library card.

Please remind parents the day before the field trip to send the Library card with the child.

If a child's card has fines for late, lost or damaged materials, a parent will need to visit the Library in advance of the field trip to clear the child's record.

Parents, teachers or chaperones with a valid Library card may check out materials for children but that individual adult will be responsible for ensuring the materials are returned to the Library and any fines or fees associated with late, lost or damaged items are paid.

Please be sure to ask about parking arrangements as necessary.

Call if your group will be delayed or if you need to cancel your trip.
LIBRARY MANNERS
Groups of children must be supervised at all times. Please plan at least 1 adult chaperone for every 7 children in your group. Chaperones will be responsible for monitoring and correcting individual behavior. Disruptive groups may be asked to end their trip early.
Please share the below guidelines with staff, parents, chaperones and students.
Follow all instructions and directions from the library staff.

Chaperones must turn off or set all cell phones to vibrate.

Chaperones should refrain from personal conversations between one another during the visit.

Stay with your group.

Do not disturb others who may be working or reading in the library.

Walk in the library.

Food, drinks, gum, etc. must be disposed before entering the Library.

Please enjoy the materials and treat them with respect. Handle them gently and leave them on the tables for the Library staff to reshelve.
ATTENDING REGULARLY SCHEDULED LIBRARY PROGRAMMING
The Library offers a variety of informative and entertaining program events geared towards children. While larger groups are welcome to attend, these events are presented for the enjoyment of the community at large and individual families will receive priority seating.
Groups of more than 10 children must contact the Library at least one week in advance of the program to confirm availability of space.

Groups must arrive at least 15 minutes in advance of the scheduled event in order to be seated.

Groups arriving after the start of an event will not be admitted.

Children must be seated together and with the group chaperones.

Chaperones must monitor the behavior of individual children in their charge and remove disruptive individuals. In the case of significant disruptions, groups may be barred from future attendance.

Groups will be limited to attending events that do not require registration.
Book Clubs for Grades K Through 5
The Library offers three different book discussion groups for children in different age ranges. Our "Super Stories" group is geared for children in kindergarten and first grade and generally focuses on familiar story characters rather than discussing a specific book. The "Crafty Readers" group is designed for children in second and third grades and centers on beginning chapter books. The "Book Snackers" group for children in fourth and fifth grades gets children into discussing more complex chapter books.
Groups meet once a month on Wednesdays at 4:30 p.m. Summer sessions meet earlier in the day. Registration for all sessions is required and is available by visiting or calling the Youth Reference Desk.
Each age group will meet for approximately an hour, discuss a theme or a specific book and have a craft and a snack as part of the program. Call and register at 734-426-4477.