Donating to the Summer Reading Program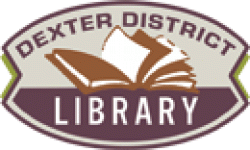 The Dexter District Library is preparing for its annual Summer Reading Program and once again we are asking for your help! This year, the Library is planning another exciting summer of reading, programs and prizes for the community. In addition to our children's program, we continue to expand our offerings for teenagers and adults. We hope you will be able to help make this year's program the biggest success ever and keep our community reading throughout the summer.
Last summer over 1,300 children and teens participated in this wonderful library event by setting personal reading goals and taking part in library activities. This year, we are hoping to attract even more children to the joys of reading, help prepare them for their next grade level and provide a center for summer fun and activities. This year's themes, "Fizz, Boom, Read" for children and "Spark a Reaction" for teens, focus on exploring science through reading.
Our adult reading program will give parents, adults and seniors incentives to keep reading during the summer. The theme "Literary Elements" will encourage adult readers to broaden their horizons as they progress through various reading goals.
There are several ways in which we could use your help:
Donations of gift certificates or giveaways - last year we filled over 800 goodie bags with prizes and gift certificates for children, teens and adults who completed the program.

Prizes for weekly reading progress – on a weekly basis, individuals who come into the Library to update their reading records receive small items such as penny whistles, small Nerf balls, etc.

Monetary gifts for programs and professional entertainment – scheduled events at the Library generally run from $200 to $500 depending on the performer and additional provisions such as refreshments.
Donations made out to the Dexter District Library are tax deductible and you or your organization will be mentioned as a prize donor throughout the summer. Your contribution makes a big difference in helping to motivate our community to keep reading. If you have any questions regarding the Dexter District Library or the Summer Reading Program, please feel free to call us at 426-4477 or email us at This email address is being protected from spambots. You need JavaScript enabled to view it. .
Sincerely,
Paul McCann
Library Director
Lisa Ryan
Head of Adult Services

Cathy Jurich
Head of Youth Services
Affordable Care Act Information
Primary Site for ACA Information:
Health Insurance Marketplace: http://healthcare.gov (24/7 hotline 800-318-2596)
Starting October 1, 2013, you can apply and enroll in health coverage through the Health Insurance Marketplace. Health coverage starts as early as January 1, 2014, and open enrollment ends on March 31, 2014.
Through the Marketplace, you can apply, compare all your options, and find out if you can get lower costs on monthly premiums or get free or low-cost coverage. When you're ready to enroll, you'll decide how you pay your premiums or get help signing up for Medicaid or CHIP if you're eligible.
For information on where you can find help locally to sign up for the Affordable Care Act, visit this link: https://localhelp.healthcare.gov
Habla español? Vaya aquí: http://cuidadodesalud.gov

Other Helpful Sites:
Kaiser Family Foundation: http://kff.org/health-reform/
This site provides an interactive health insurance subsidy-calculator that can estimate impact based on income, family size, age, and tobacco use, the requirement to buy coverage under the Affordable Care Act, Understanding Health Reform, and Frequently Asked Questions on the Affordable Care Act.
Enroll America: http://enrollamerica.org
A nonpartisan 501(c)(3) collaborative organization working with community partners to maximize the number of uninsured Americans who enroll in health coverage made available by the Affordable Care Act.
Michigan Consumers for Healthcare: http://consumersforhealthcare.org/
MCH works collaboratively with a diverse alliance of consumers, partners and policymakers to attain affordable, accessible, quality healthcare for everyone in Michigan through education, outreach, advocacy and stakeholder engagement. This site includes a blog and information resources for groups such as American Indians, Hispanics and Latinos, seniors, and young adults.
Washtenaw Health Plan: http://ewashtenaw.org (or 734-544-3030)
Washtenaw Health Plan (WHP) is a health coverage program for low-income Washtenaw County residents who don't have access to affordable health insurance. WHP helps people get the health care services they need.
Rate Estimator
The State of Michigan offers a rate estimator to help you plan how much you'll be spending on insurance. It is available here: http://www.michigan.gov/difs/0,5269,7-303-12902_35510_66707-313356--,00.html

Medicaid Health Plans in Washtenaw County:
Blue Cross Complete in Michigan: http://mibcn.com (1-800-228-8554)
Meridian Health Plan of Michigan, Inc.: http://mhplan.com (888-437-0606)
Midwest Health Plan: http://midwesternhealthplan.com (888-654-2200)
Molina Healthcare of Michigan: http://molinahealthcare.com (888-989-7969)
MAP passes
The "Michigan Activity Pass presented by The Library Network" program is a partnership between Michigan's nearly 400 public libraries and 60 arts and cultural organizations. The program is designed to enhance the learning experience for people of all ages through books and other library materials, and to provide reduced cost or complimentary access to arts and cultural organizations across the state of Michigan, from Monroe to Mackinaw City to Marquette, and all points in between. All passes are issued online through the MAP site:
http://michiganactivitypass.info
Detroit Zoo - Tickets & More
The Detroit Zoo is now offering discounts to local library patrons. Through the 'Tickets & More' program, library cardholds can purchase admissions, ride tickets, food coupons and parking. If you are looking for something to do...why not check out the Zoo! Complete details can be found at:
https://tickets.detroitzoo.org/affiliate.asp?ID=2195985C-76C5-469F-B27C-CE7E3C30F65F
Larry Martin's WWII In Their Own Words

Bob Dietsch, Army Combat Engineer
Bob was a Army Combat Engineer with the 19th Combat Regiment in Italy. He fought with General Montgomery's 8th Army at Anzio, Monte Cassino, Rapido River. As a combat engineer he would disarm booby traps (boncing Betty, shoe bomb) and dig up land mines, build bridges while under attack from artillery, mortars, airplanes and small arms. Bob has a lot of his own memorabilia including German weapons, helmets, many booby traps and German propaganda that was dropped on them.


There will be a Q & A with Larry Martin following the taped interview and some war memorabilia will be on display. Families are welcome, but parental discretion is advised.
For a complete list of Larry's upcoming program's all across lower Michigan Libraries, click here:
Library Value Calculator
Library Tax Comparison
Compare how much you paid in taxes for library services to the value of library services provided.
Market value of your home
or condominium
Amount of Taxes paid

$
Library Use Value Calculator
Explanations of Values
The cost figures for library services were derived by the Massachusetts Library Association based on the table below:
| | | |
| --- | --- | --- |
| Library Service | Value of Service | Based On |
| Adult Books Borrowed | $17.00 | Amazon.com average price |
| Young Adult Books Borrowed | $12.00 | Amazon.com average price |
| Children Books Borrowed | $17.00 | Amazon.com average price |
| Audiobooks Borrowed | $9.95 | Audible.com download average |
| Interlibrary Loan Requests | $25.00 | Amazon.com average price plus shipping |
| eBooks Downloaded | $15.00 | Estimated B&N/Amazon average |
| Magazines Read | $5.00 | Estimated purchase price average |
| Newspapers Read | $9.50 | Boston Globe subscription (outside city) |
| Movies Borrowed | $4.00 | Estimated Netflix average |
| CDs Borrowed | $9.95 | iTunes download album average |
| Meeting Room Use (per hour) | $25.00 | Estimated value |
| Adult Programs Attended | $15.00 | Entertainment/program admission fee - estimated average per adult |
| Young Adult Programs Attended | $12.00 | Entertainment/program admission fee - estimated average per youth |
| Children's Programs Attended | $7.00 | Entertainment/program admission fee - estimated average per child |
| Museum Passes Borrowed | $20.00 | Museum admission fee - estimated average for two adults |
| Computer Use (per hour) | $12.00 | FedEx/Kinkos price |
| Database Searches | $19.95 | Average cost for online article search |
| Reference Assistance | $7.00 | Average library cost |
Adult Program Calendars (printable)
Click the links below to view and print monthly program calendars.
Reading Groups
Library Director's (Paul McCann) Group
Meetings are typically held on the third Monday of each month, September through June, at 7:30 p.m. unless otherwise posted.

Lisa Ryan's Groups
Somewhere in Time Book Club
This history focused book discussion club meets the second Monday of every month from 7:00- 8:30 in the DDL lower level meeting room and will focus on different times and places in history. This is a nonfiction reading group, but some quality historical fiction may also be included from time to time.
Registration is required. Contact Lisa Ryan 734-426-4477 (ext 119) for further information.


Better Off Read Book Club
This general reading book discussion club meets the third Thursday of every month from 2:00-3:30 in the DDL lower level meeting room. This is a general reading group and it will focus on a selection of books from many different genres.
Registration is required. Contact Lisa Ryan 734-426-4477 (ext 119) for further information.
Adult Services
The Dexter District Library Adult Services department is your destination for books, audiobooks, ebooks and programming!
Click from the categories below for more details.
Fax Service
The Dexter District Library offers public faxing service for patrons:
Pre-pay for faxes at the first floor circulation desk
The fax machine is located at the second floor reference desk
The library will provide outgoing fax service only (no incoming faxes will be received)
The cost for this service will be 20 cents per page
Generic cover sheets will be provided at no charge or patrons may provide their own